With a transition from pilot project status looming, Western Kenosha County Transit officials are looking for public feedback on potential schedule and service changes.
To that end, transit officials hosted a meeting Thursday afternoon at the Salem Community Library to bounce a few ideas off the public.
And while some of those changes, if enacted, probably are a ways down the road for the bus service, a change in monthly fares will go into effect next month, it was announced.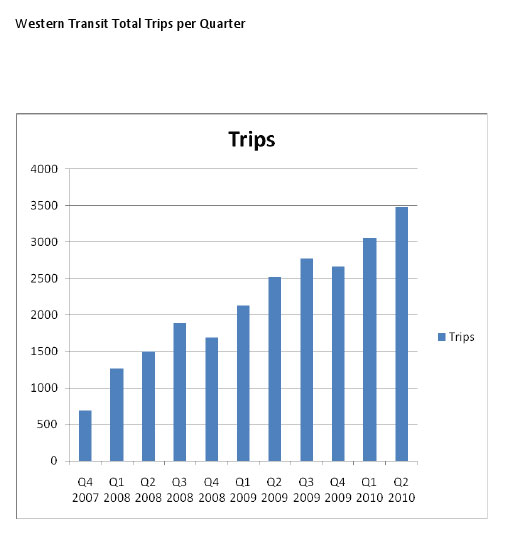 Turnout for the event was modest, with less than 10 people attending.
Officials presented the following areas they are considering for changes:
Saturday services — Saturdays continue to be the lightest day for ridership, with very few riders to Antioch. Officials expected to see seasonal surges in Saturday use — such as more trips to Lake Geneva in the summer — but have not.
Are three afternoon trips to Antioch needed?
Can more middle of the day trips be handled by door-to-door rather than fixed routes service?
Does trip direction need to alternate on Route 2, which is a loop in the east end of the service area that goes from Paddock Lake, west to Silver Lake, south to Antioch, north to Bristol and then back to Paddock Lake.
Does every route need to occur every day?
Is there demand to connect with Burlington Area Senior Shuttle?
These areas and others will be analysed and considered for change during 2011, said Carolyn Feldt, a Carolyn Feldt, a manager at Kenosha County Aging and Resources Center, which administrates the program for the county government. But one change coming much sooner will be the price of monthly passes.
As of Oct. 1, monthly unlimited ride passes for Western Kenosha County Transit will be $20. They had been $10 since the beginning of the service in 2007.
Daily fares will remain the same $2 per one-way ride for fixed routes and $3 for door-to-door service.
Western Kenosha County Transit is the public bus serving Western Kenosha County towns and villages. It is funded with a blend of state transportation grants and county  budget levy.