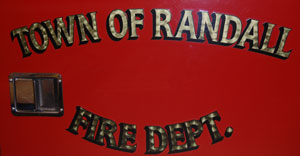 The Randall Fire Department's 25th anniversary festival is this Saturday, Aug. 28, at the Bassett Fire Station, on Highway F at Highway KD.
The festival will begin at 11 a.m. and continue through late evening. It will feature live bands, recorded music, classic cars, smoke house, sprinkler house, blood pressure checks, children's games, fire prevention tips, prizes, raffles and more.
The Town of Randall officially began the fire department Jan. 1, 1985.