Bristol School administration and staff introduced the three "Bristol B's" to the  school community at an open house today that was different than those of recent years.
The B's — as in "be safe, be respectful, be responsible" — are part of Positive Behavioral Interventions and Supports, the new behavior management system the school will begin using this year, explained principal Jeff Terry. PBIS is intended to unify expectations of student behavior at the school regarding non-academic areas like on the bus, in the halls and in locker rooms.
"If we do this school wide, everyone hears the same message," Terry said. The first week of school will be spent introducing and emphasizing the principals of PBIS.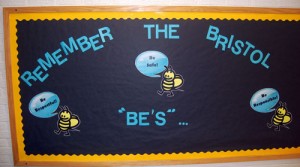 PBIS is a system based on rewards, intended to acknowledge when students are doing the right thing, Terry said.
Terry and a committee of eight staff members have been adapting the system to Bristol.
An explanation of the program kicked off the open house. Then students and parents were free to check out their classrooms and lockers for this year and perhaps chat with teachers.
Both Terry and School Board member Todd Becker noted the attention being paid while the program was laid out for parents.
"You could hear a pin drop," Becker said.
Out in the parking lot, a hot dog cook-out — including district administrator Gale Ryczek as grill master — was waiting. There also were tables set up with info about various school-related groups and activities like Scouts, Market Day and PTA.