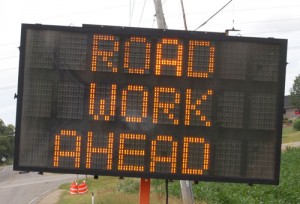 The Wisconsin Department of Transportation has announced a detour on eastbound Highway 50 in Wheatland is scheduled to begin at 9 a.m., today, Aug. 24 and last until 6 a.m. Wednesday, Aug. 25. The detour begins east of Highway P, at 384th Avenue. It will take traffic along Geneva Road (Old Highway 50).
The road will be closed in order to work on the shoulders along 3.3 miles of Highway 50, from Slades Corners to New Munster.
Work is weather-dependent. Motorists are advised to expect delays.
Wheatland Town Board members at their regular meeting Monday night expressed some concerns about the effect of construction traffic on Geneva Road, which is a town road. They said they and state officials are monitoring the road for any damage that might be attributable to construction traffic.