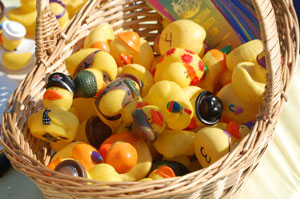 A fun feature of this year's Kenosha County Fair is twice daily toy duck races at the creek on the grounds.
The duck races tie-in nicely to the fair's theme this year "Have A Quackin' Good Time."
You can have your own duck in the race for just $1. The person whose duck reaches the end first wins half of the entry fees collected. Register at the bridge no later than 15 minutes before the starting times. Daily races are held at noon and 5 p.m.
These races can be pretty competitive. Check out this video: