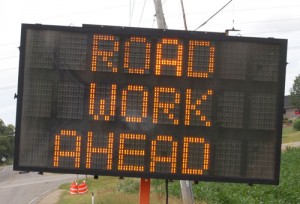 Wondering what all of those orange barrels on Highway50 are for?
Here's the lowdown from the state Department of Transportation:
County P intersection, Wheatland, from July 1 to Nov. 15. Reconstruct of a high speed four-lane signalized intersection, with added turn lanes, new signals and lighting. Cost: $710,000
376th Avenue to 256th Avenue, from July 14 to Oct. 11. Pavement replacement, signing, pavement marking, bridge deck overlays, and guard rail improvements for 7. 24 miles. Traffic will be reduced to one lane in each direction throughout the work zone. Access to all commercial and private properties will be maintained at all times. Cost: $4 million.