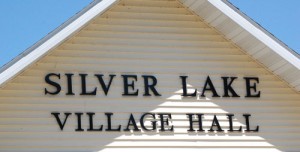 When Steve and Teresa Payton put their Silver Lake home, located at 930 E. Oak Street on the market, they did so with knowledge of notification from the Village instructing them to remove a dead tree by mid-July.
As the sale nears its closing date, the tree still stands and the prospective owner assumed he would be responsible for removal costs. He asked the Board for an extension until the end of August to remove it, but planned to have it removed sooner if closing goes as expected.
Not so, stated Village Trustee, Ann Augustin who explained to the Board that it is the responsibility of the seller to pay for the tree's removal because the notification was given prior to the home's closing date.
"This buyer should not have to pay for it, and we need to write him a letter telling him it isn't his responsibility," she said, adding. "The seller should take the money out of the closing costs so the buyer doesn't have to come up with money to take down a tree that died before he bought the house."
By unanimous approval of the Board, it was agreed that Trustee Barbara Ironside will draft a letter and send it to the buyer of the home.