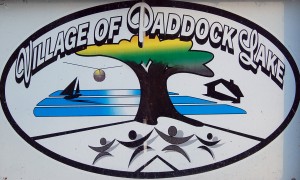 The Paddock Lake Village Board approved a Plan Commission recommendation that will in effect give Central High School three years to complete the construction of a restroom facility and six-foot wide path along Highway 83 west of the school's athletic facilities there.
The school had asked for the extension.
Building inspector Tim Popanda said discussion at the Plan Commission level was extensive, but resulted in the recommendation to authorize the extensions and other conditions.
Before the vote, Trustee Terry Burns presented a proposal to have the restroom construction extended only until fall 2011, so as to not jeopardize a grant the school district has received from the United States Tennis Association for the courts project.
But Central district administrator Scott Pierce said the grant money was not specifically for the restrooms and that it is conceivable that the USTA might even object to the  grant being applied to just the restrooms.
However, Trustee Kathy Christenson, who is an official of the Western Kenosha County Tennis Association that did research for the grant, said the grant was based on a plan that did include the restroom facility.
Christenson and Burns voted against accepting the Plan Commission's recommendation.
Other provisions of the approved measure include:
The school will have to provide sufficient portable restrooms and hand washing stations until the building is constructed.
The school will have to install an early warning lightning detection system before using the courts or the JV baseball field.
The school will be required to complete the access road that will attach to Highway 83 by Nov. 5, 2010.