At about 9 a.m., sheriff's deputies are pursuing a suspect who fled in the area of Highway 50 and Highway B. Scanner traffic suggest deputies believe the suspect is armed.
Officers from Walworth County Sheriff's Department and the Wisconsin State Patrol are assisting officers.
UPDATE 9:54 a.M. — Eastbound traffic on Highway 50 being shut down and diverted north on Highway B.
UPDATE 10:10 a.m. — Air one police helicopter responding to scene.
UPDATE 10:35 a.m. — Details from Sheriff David Beth:  Deputies are looking for a Howard Boss who fled after being stopped for a traffic violation on Hwy 50 in Wheatland by Wheatland Constable Bob Haas.  Boss pointed a gun at Haas and fled.  Police are currently tracking Boss in the area  south of  Hwy 50 and  east of Hwy B .   Boss is wanted on two outstanding warrants.  As of now the search is still active.  No homes have been evacuated.  Two canine units are participating in the search.
Boss is described as being a male, white, 5 feet 8 inches tall, about 50 years old wearing blue jeans, white t-shirt, black hat and black rimmed glasses.  He is from Muskego.  The Sheriff's Department Tactical Squad is on the scene.
UPDATE — Initial canines are resting.  Replacements are being brought in.  News helicopters are being asked to keep distance so police helicopter can search effectively.  Sheriff's Department making automated calls to area advising residents to be on alert.
UPDATE 12:25 p.m. — Air One police helicopter has been searching scene for about 30 minutes. Police have been searching in woods around mobile home park south of Highway 50 along B and down to the Department of Natural Resources boat launch. Silver Lake officers and Salem Public Safety are also assisting in the search.
UPDATE 1:50 p.m. — Air One helicopter leaving area due to approaching bad weather.
UPDATE 2 p.m. — New information from Sheriff Beth: Suspect still at large. Perimeter of about 4 to 5 miles around target area will be maintained by Kenosha County deputies and state troopers. Other agencies being released. Beth said suspect may still be armed, but he has not shown any tendency to take hostages. "At this point, we don't believe he's out there to grab a hostage," Beth said. "He's just hiding from us. … We really don't know where he is." At one point, officers followed a lead to see if a boater on the Fox River heading toward Burlington might have been the suspect, but the person was a local resident. Below is some video of Beth talking to reporters with additional details:
UPDATE 2:45 p.m. — Eastbound lanes on Highway 50 being opened up again.
UPDATE 4 p.m. — Second round of auto calls being made to area residents advising suspect is still at large, that people should be aware but do not need to stay locked in their homes.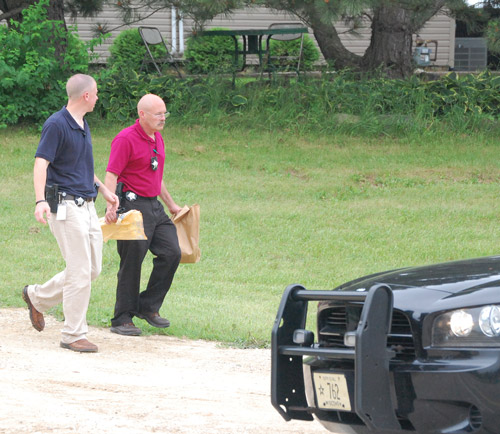 Detectives carry evidence from the scene of the traffic stop.
Jeff Giometti, whose home is adjacent to the woods where police spent most of the day searching, shares what he experienced: