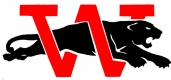 Looking for info on how to keep track of the Wilmot softball team's journey to the state tournament?
The school's website has a good rundown of the schedule, how to see the games if you go to Madison and and how to keep track of the results if you can't make it.
We will be keeping in touch with the results too so you can check with us as well.
Good luck to the Panthers at state!