Kenosha County Executive Jim Kreuser has joined with Governor Doyle in proclaiming today as Wisconsin Heat Awareness Day.
"This is a good time to review how heat and humidity affects you," Kreuser said. "Heat is America's number one weather-related killer and knowing what you can do to stay cool can save your life."
Per the National Weather Service, between 1982 and 2009, Kenosha County experienced 17 Heat Wave events representing 61 Heat Wave Days that resulted in seven  deaths, said Ben Schliesman, director, Kenosha County Emergency Management.
"People who are most vulnerable to heat-related illness and death are the elderly, infants, young children, people who are overweight and those who work outside," Schliesman said.
The most common heat-related illnesses are heat exhaustion and heat stroke.
Heat exhaustion should be treated by cooling the body temperature with liquids and a cool shower. Medical attention should be sought if you notice an increased heart rate and/or blood pressure. Symptoms of heat exhaustion include heavy sweating, muscle cramps, tiredness, weakness, dizziness and nausea.
Heat stroke can cause death or permanent disability if emergency treatment is not provided. If you notice anyone with signs of heat stroke, seek medical attention immediately while you begin cooling down the affected person. Symptoms of heat stroke include:
Extremely high body temperature (above 103°F) and a rapid strong pulse;
Red-hot, dry skin; and,
Throbbing headache, dizziness, confusion and nausea.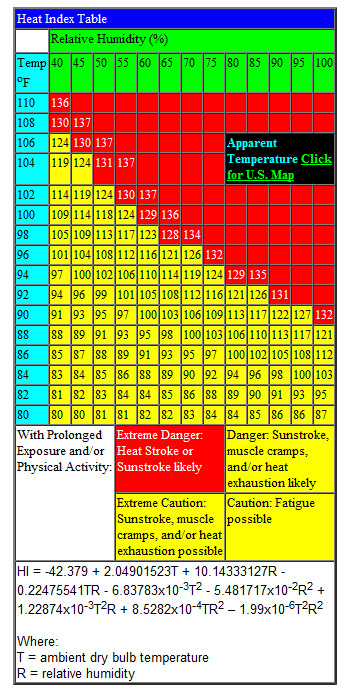 You can prevent heat-related illnesses by taking the following precautions during the hot humid summer months:
Slow down and reduce outdoor activities. If possible do your activities in the early morning or evening and do not participate in strenuous outdoor activity.
Drink plenty of water and stay away from alcoholic, carbonated or caffeine-type drinks.
Stay out of the direct rays of the sun as this can add 15 degrees to the apparent temperature, better known as the heat index.
Take a cool bath or shower and you will cool your body down 25 times faster than sitting in an air-conditioned room.
Wear lightweight and light colored clothing limited to one layer of absorbent fabric to facilitate the evaporation of sweat. If clothes become wet they should be changed.
Use sunscreen with a high Sun Protection Factor (SPF) and wear a wide-brim hat; sunburn reduces the skin's ability to provide cooling.
Keep shades drawn and blinds closed; keep lights on low or turned off.
Eat frequent small meals and avoid high protein foods which increase metabolic heat.
Spend time in an air-conditioned room; just two hours per day in air-conditioning can significantly reduce the risk of heat-related illness.
If you don't have air-conditioning, spend time in air-conditioned places such as libraries, shopping malls or visit friends or relatives that have air-conditioning.
Spend time in your basement; turn fans on.
People will often say, "We're having a heat wave," but what is a heat wave and what does it really mean? A heat wave usually consists of both high temperatures and high relative humidity. The combination makes it difficult for the human body to dissipate heat through the skin and sweat glands. To inform the public as to the criticality of heat, the National Weather Service uses the "Heat Index" as a measurement of the combined effects of high temperatures and high relative humidity. "The Heat Index equates to a "Feels Like Temperature," said Schliesman. "If it's 90 degrees with a relative humidity of 65%, the Heat Index, "Feels Like" temperature is 103 degrees. The greater the Heat Index, the greater possibility of heat-related illness."
With regard to heat-related weather, the National Weather Service issues the following Watches and Warnings:
Heat Advisory: A Heat Advisory is issued by the NWS, 6-24 hours in advance of any 24-hour period in which the daytime heat indices is => 100 degrees Fahrenheit and/or the air temperature => 95 degrees Fahrenheit.
Excessive Heat Watch: An Excessive Heat Watch is issued by the NWS, 24-48 hours in advance of when Excessive Heat Warning conditions are expected.
Excessive Heat Warning: An Excessive Heat Warning is issued by the NWS, 6-24 hours in advance of any 48-hour period in which daytime heat indices are => 105 degrees Fahrenheit and the night-time heat indices are => 75 degrees Fahrenheit.
"To keep apprised of up to the minute weather information regarding heat waves, severe storms, floods, etc, all households, schools, and businesses should purchase a NOAA All Hazard Weather Radio with either S.A.M.E. Technology or with a frequency of 162.450 (frequency assigned to Kenosha/Racine counties)," said Schliesman. With a weather radio, you'll have peace of mind and you will always have an idea as to what weather is coming your way."