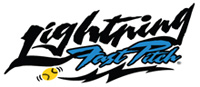 Lightning Youth Athletics , a 10-18U girls fast pitch softball travel program, is accepting resumes for all age level volunteer coaches for the 2010-2011 season.
Please mail resume, references and credentials to LYA, PO Box 154, Salem, WI 53168-0154 or email to sthbadger@wi.rr.com by July 6.
Panel interviews will be Wed, Aug. 4 at   6:30 p.m. at Strawberry Creek Club House.