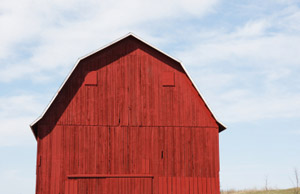 Gather your friends and family and dig out your boots from the back of the closet. It's time to celebrate rural communities and support students in the College of Agricultural and Life Sciences at the University of Wisconsin-Madison.
Bob and Sue Crane are hosting a barn dance on Saturday, June 19, from 5 to 11 p.m. at their family farm in Brighton. All proceeds from the fundraising event will support UW-Madison CALS students through the Wisconsin Rural Youth Scholarship program. This scholarship was created specifically for rural youth and is based on financial need.
The barn dance will include DJ entertainment from 5 to 7 p.m., followed by live music from one of southeastern Wisconsin 's favorite bands: Tim Castle and Young Southern.
Both a silent and live auction will include several top value items made possible through the generous support of companies in the local and statewide agricultural communities. Bob Johnson will act as official auctioneer at the live auction, which will take place at 9 p.m. The barn dance will be hosted indoors in the Cranes' machine shed, so it is sure to be a fun event for everyone – rain or shine.
Host Sue Crane said UW-Madison has been an integral part of her family for many years as six of her children graduated from the university. Three of her sons brought their educations back to the local community; two became partners in the family farm and the other runs his own crop operation adjacent to his parents' farm.
"CALS has been an important part of our farm and family, so we wanted to give something back," Crane said.
The farm is located southeast of Burlington at 29320 31st St. (Highway JB)  two miles west of Highway 75. The price of admission is $20 per person and includes a full down-home meal and beverage. Other drinks will be available for purchase. Kids 10 and under are free.
A related fact sheet is available here.
Visit http://cals.wisc.edu/barndance or search for "Wisconsin Rural Youth Scholarship Barn Dance" on Facebook or LinkedIn.
For more information, contact Rachael Crane at 262-206-8149.