The Wheatland Volunteer Fire Department is hosting its 41st Annual Softball Tournament, Dance and Festival fundraiser on June 25, 26 and 27.
On Friday, softball games start at 6 p.m. and the dance starts at 9 p.m., with FLOOG performing.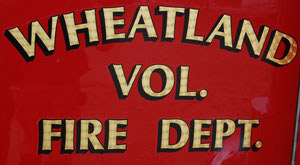 On Saturday,  Softball starts 11 a.m. The parade starts at 1 p.m. , with a route starting at Best Bargains parking lot and running through New Munster, ending at the Wheatland Fire Station. Entrants and spectators (bring your candy buckets) are welcome. The enter the parade, call Paul DeLuisa 262-210-3696.
An interactive kids show will follow the parade.
Business waterfights will take place Saturday. Registration is at 1:30 p.m. with competition starting at 2 p.m. The waterfights are open to anyone over 18. Teams must have four people, with at least one female participant. There is a $25 per team entry fee.
Saturday night's dance begins at 9 p.m., with BOOGIE MEN performing.
On Sunday, softball starts at 11 a.m. Fire Department waterfights start at 2:30 p.m.
There will be amusements for the kids all day Saturday and Sunday.