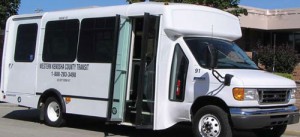 State Rep. Samantha Kerkman (R-Randall) will hold mobile office hours throughout the 66th Assembly District on Tuesday, May 18 in a unique way.
She will kick off her office hours tour at Aurora Medical in Twin Lakes at 9:30 a.m. From there, she will travel aboard the Western Kenosha County Transit bus to Paddock Lake, stopping at Village Plaza. The tour will continue through Silver Lake,
Camp Lake, Salem, Trevor, Antioch, and Bristol before ending in Twin Lakes at 11:30 a.m.
"I'm very excited to get out on the road and meet with constituents to discuss their thoughts and concerns relating to state government," said Rep. Kerkman. "I am hopeful that by visiting multiple communities throughout the district, more residents of the district will be able to meet with me and voice any concerns they have over the work that was done during the 2009-2010 session and the work that still lies ahead of our state."
Area residents who wish to ride the public bus with Rep. Kerkman will need to pay $2 before boarding. The price is good for one trip. For more information about the Western Kenosha County Transit system, please call 1-888-203-3498 or visit www.co.kenosha.wi.us/transit.