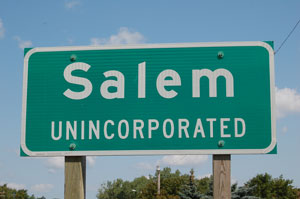 The Salem Town Board approved a change to its public safety ordinance that clarified giving  its public safety officers authority to enforce state laws as well as town ordinances.
But while the action, which passed on a 4 to 1 vote, may have unified language in the ordinance , Sheriff David Beth said creating a de facto police force muddied the question of who  should be the first responding police agency in Salem.
The issue arose because the current public safety ordinance has conflicting language that in one place gives the public safety officers only authority to enforce town code and in another to enforce state laws.
The conflicting language was pointed out to town staff by assistant district attorney Richard Ginkowski, who attended the Town Board meeting Saturday.
He was concerned with the conflict because it could undermine prosecutions of state laws, Ginkowski said.
"The problem I have is the conflicting language … causes ambiguity," Ginkowski said. "The whole picture is clear as mud."
Perhaps further muddying the water was an issue raised by Sheriff David Beth, who also was in the audience Monday.
If Salem public safety officers are to have full police powers, then practice elsewhere in the county would suggest that Salem should be responding to police calls.
"Every other policing agency in this county is the first reponder to calls," Beth said. "It's not clear what's going on here. I can see further discussion and this is something that needs to be discussed."
But Salem's intent is not to have a full functioning police department, said town administrator Patrick Casey. The department can't receive radio calls from Kenosha County Joint Services dispatch, which handles 911 calls here.
In an apparent effort to clarify the issue, the board at the suggestion of town attorney after consulting with Ginkowski, unanimously passed an additional action stating that the board's intent was to focus on code enforcement, traffic enforcement and water patrol on town lakes.
Chairman Linda Valentine said she will place the issue on next month's agenda again.