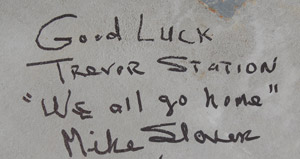 Firefighters representing all stations of Salem Fire/Rescue made their marks on the under construction new Trevor Station Monday.
The representatives each signed a panel of the hose tower before it was lifted into place.
The new Trevor Fire Station is part of the $10 million building being constructed off Highway C just north of the existing Trevor Fire Station. When completed, the building will replace the Trevor station and Salem's highway facility, also located nearby in Trevor.
The building project is on schedule and under budget, said town Chairman Linda Valentine.
The under budget is mostly attributable to the town giving a specialized subsidiary of it contractor, Miron Construction, authority to make purchases of materials for Salem, Valentine said.
Currently, it is expected the building will be ready to be used in October, Valentine said.
Work also continues on the facility's deep well, Valentine said. Crews from the well contractor were working Monday on clearing the well to its full depth of 1,200 feet. Earlier a partial caving in of the walls had shortened the well's depth.
Here are some photos of the building: