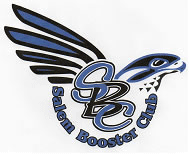 The Salem Booster Club is holding a writing contest.
Students will compete in two age groups:
Kindergarten through fifth grade 100-150 words.
Sixth through eighth grade 200-250 words.
The topic for the contest is "What Salem Booster Club Means to Me."
First place entries will receive a $30 gift card and have their writing published in the June issue of the booster club's "Booster Beat." Second place entries will receive a $20 gift card and be published in the May "Booster Beat."
Entries should be submitted in a sealed envelope to the school's main office. Include name and grade. Deadline for entries is Friday, April 30.