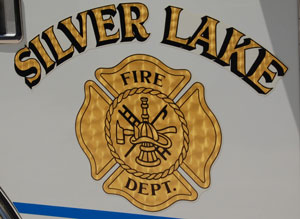 The Silver Lake Fire Department will seek avenues for funds to replace the turnout gear of two firefighters who assisted in the response to a turned over tanker truck in Somers last week.
In cleaning up the diesel fuel spilled by the tanker, their gear absorbed so much fuel odor that the department has so far been unable to clean them sufficiently to use them or even store them in the fire station, said Trustee Richard Maron at this week's Village Board meeting. Likely they will have to be replaced.
Unfortunately the gear was relatively new as it was purchased for two of the younger and more active firefighters, said Maron, who also is a fire department member. A set of turnout gear costs about $1,000.
Several Village Board members urged the department to contact the Somers Fire Department to see if there is some way Silver Lake can recover the cost of replacing the gear. If that's not possible, the Silver Lake department's insurance may have to be tapped.
In the meantime, the two effected firefighter are using older spare gear, Maron said.