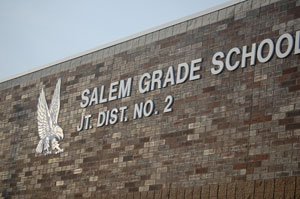 A special School Board meeting to gauge the interest in and answer questions about 4-year-old kindergarten at Salem School will take place Tuesday. March 23 at 7 p.m. in the Large Group Instruction room.
The board is considering implementing the program for both educational and financial benefits.
"We believe 4K provides programming during the early primary years when literacy development is most critical and when interventions can have the greatest impact," says an informational flyer about the meeting the district has been distributing. The same flyer pints out that a 4K program would increase state aid by increasing the school's population.
4K attendance would not be mandatory. The district is proposing a 2.5 hour program with class sizes of 15 to 17 students.
If approved, the program could start this September. It would be housed in new specially designed classrooms that were part of the recent addition rehabilitation project.
Salem School is located at Highways 83 and AH.