If you've been itching to hit one of the county-operated golf courses since the snow first started melting, your wait is almost over.
Both Brighton Dale Links and Petrifying Springs in Somers will open for the season on Thursday, March 18.
Kenosha County Executive Jim Kreuser said he hopes people will visit both county golf courses to see first-hand the improvements that have been made.
"We are proud of the work that has been done to improve operations and play at both courses," Kreuser said. "There are also more improvements in the planning stages. Our golf courses are a incredible asset and we want Kenosha County residents to enjoy them."
Season passes and merchandise will be on sale at both courses starting Wednesday, March 17th.
The hours of operation for both courses will be from 8 a.m. to dusk, seven days a week.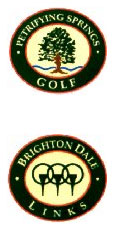 "We are extremely excited about the upcoming year", said Dan Drier, PGA professional and general manager.
Brighton Dale complex is comprised of 45 championship golf holes. White Birch and Blue Spruce are 18-hole, par 72 layouts that measure 6,977 and 6,687 yards, respectively. Red Pine is a 9-hole, par 36 layout of over 3,500 yards.
The Petrifying Springs course has 18 holes at 5,979 yards.
Golf course superintendent Dave Hassel said, "The courses survived the winter months really well so it should be in great shape in the next couple of weeks provided we get some much needed warmth and good weather."
The courses are kicking off the golf season with a weekday special $49 for all the golf you can play including cart. Spring Rates are in effect through April 30. The spring weekday rates are $18 to walk and $32to ride per person. Weekend rates are $20 to walk and $35 to ride per person. Twilight rates are $15 to walk and $25 to ride for all the holes you care to play begin at  2 p.m. every day.
To reserve tee times call (262) 697-GOLF, and visit the website www.co.kenosha.wi.us/publicworks/golf for upcoming golf and events.
Brighton Dale Links is located in northwestern Kenosha County. Brighton Dale Park is adjacent to the Bong Recreation Area, just north of the intersection of Highways 75 and 142. Enter off of Highway 75.
Petrifying Springs Golf Course is located in northeastern Kenosha County; the Petrifying Springs clubhouse is 1/2-mile east of the intersection of Highway 31 and County Road A. Enter off of County Road A.