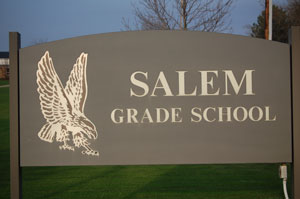 A higher than typical number of incoming resident Salem School kindergarten students  have applied to open enroll to other districts, administrators reported to the School Board Tuesday.
But the district is taking steps to win back incoming kindergarten families, including an open house aimed at the parents of those children and a brochure that will be mailed to homes of incoming kindergarten families.
Open enrollment allows public school students who reside in one district to attend school tuition free in another district, if accepted. School districts often try to encourage incoming open enrollment to increase per student state aid.
The board on Tuesday approved 16 incoming open enrollment students and 100 outgoing open enrollment students.
Of those 100 outgoing students, primary grades Principal Shawn Waller said 26 are current Salem students. Another 32 students were from the incoming kindergarten class.
More typical might be half that number, Waller said.
Waller attributed the large number of outgoing open enrollment kindergarten students to false impressions  about the effect of recent failed referendums on the school.
"A lot of people think we cut out all of our specials, which isn't true," Waller said, referring to classes like art, music and physical education.
The idea behind the brochure and especially the open house is to get families "in the building and show them good things are happening," Waller said.