Salem is seeking radio dispatch contact for its public safety officers as the town looks to step up its enforcement of town ordinances and traffic laws.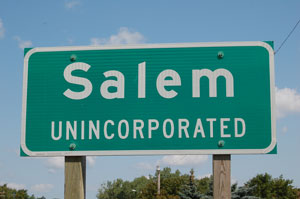 Dispatch contact is vital for the safety of the officers when situations become more urgent, such as when a person stopped for a traffic offense becomes uncooperative.
Public Safety Officer David Shortess said the Silver Lake Police Department and the Wheatland constable are able to access the Sheriff's Department Channel 1 for such support. However, when Salem expressed a desire to do the same, it was told the channel's current traffic is too busy to add Salem, said town administrator Patrick Casey.
Salem has had some preliminary discussions with Twin Lakes about handling dispatch, Casey said. Twin Lakes has its own police department and handles its own dispatch.
Another alternative would be to contract with the Sheriff's Department for additional patrol, as Paddock Lake and Bristol do. Sheriff David Beth made a presentation on that option at the Salem Town Board meeting Monday. As the sheriff presented it, the extra contracted deputies likely could carry out any stepped up enforcement the town desired.
But the Town Board agreed that was too much to bite off in the middle of the budget year, though some interest was expressed in discussing contracting with the Sheriff's Department while the next budget is being formulated.
Yet another alternative would be for the town to form its own police department, but Casey said that also is too extensive of a project for the near future.
"The town's not ready for that," Casey said. "That's not even on our radar."
No Town Board member objected to continuing negotiations with Twin Lakes on dispatching services. Chairman Linda Valentine asked to be included in future negotiations. No board member objected to that either.