People tough enough to brave the icy Wisconsin waters in February — and those who aren't but still want to support a good cause — will be participating in the Special Olympics Polar Plunge this Saturday, Feb. 27 at Lake Andrea in Pleasant Prairie.
The Polar Plunge is the largest fundraising effort benefiting Special Olympics Wisconsin in the state. Participants collect pledges and Plunge into the frigid waters of Wisconsin. All proceeds collected by Plungers benefit local Special Olympics athletes.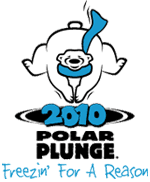 Anyone with a little guts and a warm heart wanting to support Special Olympics athletes is welcome to participate. In past years, participants have included 7-year-olds to 70-year-olds, congressmen and mayors, police chiefs and officers, company teams, dogs, mothers, high school clubs, fraternities and everyone in between. And for the more hesitant souls, there is always plenty of room for watching and cheering.
On Saturday, registration will be at the Brat Stop, Highway 50 and Interstate 94, from 10 a.m. to 1:30 p.m.  There will be no onsite registration at the plunge site, but free shuttles will take you to and from the Brat Stop and the Plunge site.
Parking is available at the Brat Stop.
Pre-registration also is available Friday, Feb. 26 from 6 to 9 p.m. at the Brat Stop, allowing you to avoid lines, turn in pledges, get prime plunge times and pick-up incentives early.
No problem…you can still participate! Register as a chicken, raise pledges, get your chicken shirt & incentives (and a special prize), then enjoy preferred plunge viewing in the "chicken coop!"
All Plungers under 18 must have a waiver signed by a parent or guardian.
A Post Plunge Party, with music by The Kingfish, also will take place at The Brat Stop from 2 to  7 p.m. Chill out, warm up and enjoy free food and beverages provided by the Brat Stop. Plungers and chickens get free admission. Non-Plungers: $5
Some of the fun Polar Plunge Contests include
Best costume.
Best entrance into water.
Most money raised overall.
Most money raised online.
Special Olympics Wisconsin's  mission is to provide year-round sports training and athletic competition in a variety of Olympic-type sports for children and adults with cognitive disabilities, giving them continuing opportunities to develop physical fitness, demonstrate courage, experience joy and participate in the sharing of gifts, skills and friendship with their families, other Special Olympics athletes and the community.
Here's a FAQ page about the Polar Plunge.
Click here to register online.
Other questions? Contact Raechel Tudjan (262) 598-9507 or rtudjan@specialolympicswisconsin.org.