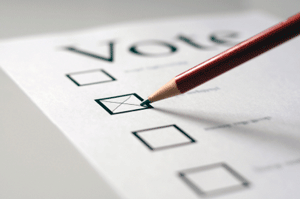 An error in how ballots were printed is causing Salem to hand correct voting instructions on ballots  for the primary election today.
Ballots printed for today's election for town supervisor instructed voters to vote for four  individuals out of a field of six candidates.
However, voters should have been instructed to vote for only two candidates.
The primary was needed to narrow a field of six candidates to four for the spring election in April. The top four vote getters will advance to the April election. Two seats on the Town Board will be filled in the April election.
Cindi Ernest, town clerk, said ballots are being corrected by hand by poll workers with the correct instructions.
The town knows how many ballots were cast before the error was detected. The town is awaiting instructions from the state as to what to do with the ballots cast with the improper instructions, Ernest said.
County Clerk Mary Schuch-Krebs said preparation of the ballot for a town, village or city election is the responsibility of the municipality.
"We just take in their data," Schuch-Krebs said.