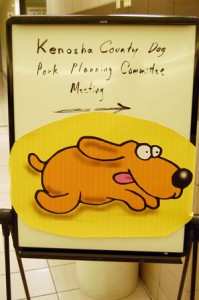 The next meeting for people interested in raising money and helping to plan for the Kenosha County Dog Parks is 6:30 p.m. on Wednesday, Feb. 17 in Meeting Rooms A and B at the Kenosha County Center, 19600 75th St., Bristol.
County Board Supervisor Mark Modory, District 10, and Cathy Zamazal, Twin Lakes, are co-chairing the dog parks committee. 
Kenosha County has pledged $25,000 in non-tax dollars and is seeking a public match of $25,000 to pay for fencing and gating at the two planned off-leash dog parks. 
Permanent dog parks are planned at Petrifying Springs Park, near the park entrance at Highway JR, and at the future KD Park, 35714 89th St., near Bassett Park in Randall.