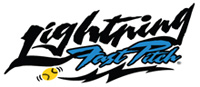 Wisconsin Lightning Fastpitch will host a Superbowl Party starting at 5 .pm. Sunday at Siebert's Pub 8403 Antioch Road, Salem.
A percentage of all proceeds during the evening will be donated to Wisconsin Lightning Fastpitch. In addition, Lightning Youth Athletics will make you an honorary member for the evening.
Any questions, please contact Michele M. Blazich at (224) 636-3474.