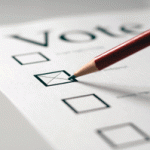 A pair of local residents are hosting a meet and greet event for the candidates running in the Feb. 16 primaries in Salem and Paddock Lake.
Candidates for county office also will be invited.
The event will take place Friday, Feb. 5 from 5 to 7 p.m., at the Community Library, Salem site, Highways 83 and AH.
The public is invited to attend and talk to the candidates of their choice. Jackie Ciesla and Pat Fish organized the event, as they have for other recent local elections.