When Jim Pelech passed the shuttered Siebert's tavern on Highway 83 in Salem, he thought of another time — a time when he remembered the bar and restaurant being the place to eat and meet in the  area.
"It was really a loss of for the community," said Pelech, who also operates his own marketing business.
Eventually, he decided it was his mission to bring it back to those glory years and maybe even expand the establishment's reach to new fans.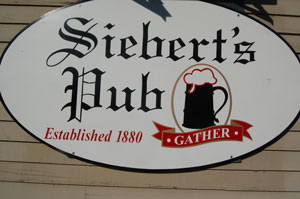 The result is the new Siebert's Pub, which reopened in November after a thorough rehabilitation and updating of the building's interior, atmosphere and menu.
There's been a Siebert's of some kind for a very long time — since 1880 according to the logo Pelech is using now. But before he opened his version, Pelech gave the historic building a thorough updating while retaining its retro charm. People who visit the new Siebert's will likely remember much of the decor, like the woodwork. But they find it painted in new colors and complemented with interesting touches, like the unique wall paper in one of the dining areas.
Another big step was that Pelech decided to make the establishment no-smoking right from the start.
Siebert's menu was overhauled as well. Pelech knew from the start that food would be important to the success of his business.
"We have to have great food," Pelech said.
The resulting menu is something Pelech says has all the roadhouse favorites, but also dishes you might not expect and likely have never been served in this building before. For example, there's an half-pound Angus burger, but there's also a hummus and roasted red pepper appetizer. There's a steak sandwich and pulled pork, but also fried green beans and "Monkey Fries." Siebert's also has been trying out a daily lineup of features that tie-in food, drinks and fun.
The feedback has been positive, Pelech said.
"This was such a popular place five years ago, people are glad to have it back," he said.