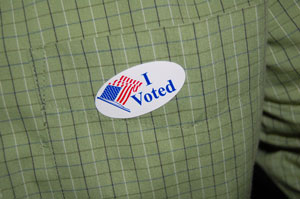 Residents of the village of Bristol are voting in their first ever village president and Village Board election today.
Of course the outcome is not expected to be too surprising. Only one candidate filed for village president. Six people filed for the board, which has six openings.
Barring a remarkable write-in victory, the Village Board sworn into office next Monday should be:
William Glembocki, a former town supervisor.
Alfreda Bradford.
Ruth Atwood, current town supervisor.
Carolyn Owens, current town supervisor.
Mike Farrell, plan commission member.
Lisa Hendricks.
Also to be seated next Monday should be Richard Gossling, the only candidate on today's ballot for village president. Gossling is the current town chairman, a position he will be vacating because he now lives in the village.
The northwest section of the the town was incorporated as a village on Dec. 1. The rest of Bristol remains a town. Since the incorporation, the Town Board has been meeting as both the Town Board and also an interim Village Board.
The inability of Gossling, Atwood and Owens to continue to serve the town because they live in the village means the town chairman position and two town supervisor slots will be open. Those positions are expected to be filled Monday as well by appointments by remaining town Supervisors John McCabe and Colleen Fisch and town Clerk Amy Klemko, said town/village administrator Randy Kerkman.