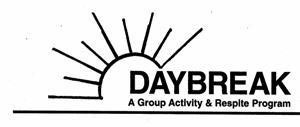 Daybreak — a group activity program for people with Alzheimer's Disease or related dementia– is seeking volunteers who enjoy spending time with older adults.
Enthusiastic, creative volunteers are used to enrich Daybreak's daily programming. Volunteer hours are flexible.
Daybreak Bristol is located in the Westosha Community Center 19200 93rd St. (Highway C), Bristol.
Contact the Daybreak Bristol program at 857-4481 if you're interested in volunteering.