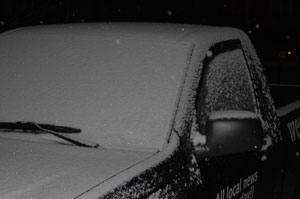 If you're looking here before you look out the window, bad news. You're going to have to brush snow off the windshield today.
But it could be worse. In fact, the National Weather Service predicts it will be worse very soon. The NWS is calling for 9 to 11 inches of snow Tuesday night.
Then the NWS is calling for a high temp on Thursday of 16.
The way the snow is falling is kind of weird — and spiteful. It seems like there's more white stuff on the roads and driveways than the grass. No fair!