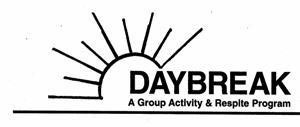 Daybreak is a group activity program that provides respite for persons with Alzheimer's disease and other related dementia.
Daybreak provides the caregiver, many of whom provide care 24 hours a day, a much needed break or "time away" while offering peace of mind knowing their loved one is being well cared for.
Daybreak offers a wide range of stimulating activities, designed especially with the individual's abilities and interest in mind, while promoting socialization and opportunities to make new friendships.
For more information regarding enrollment at Daybreak Twin Lakes or Daybreak Bristol, please call:
Christine Slater, Kenosha Area Family & Aging Services, 262-818-2756.