The Paddock Lake Planning Commission will consider a development Tuesday that is larger than it has likely reviewed in a while in the current slumping development and real estate economy.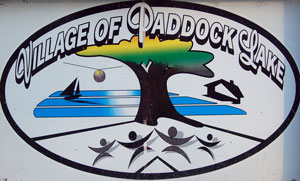 General Properties Inc. of Northfield, Ill., Urban Green LLC of Lincolnwood, Ill. and village resident Matthew Nolan are seeking conceptual plan review  of a planned unit development consisting of:
140-unit senior living center.
Medical clinics.
64-unit apartment building.
Autistic care facilities.
Vocational rehab center.
56 single-family homes.
The property is located west of 248th Avenue between 67th Street to the south and the Pathways Glen subdivision to the north.
All of the parcels proposed for the property are in Paddock Lake's boundaries.
Also on the commission's agenda are:
A conditional use permit request from Raymond Morin for a tattoo and body piercing parlor at 25614 75th St.
A conditional use permit to allow the construction and operation of outdoor horseshoe pits at Drifter's Bar & Grill, 24317 75th St.