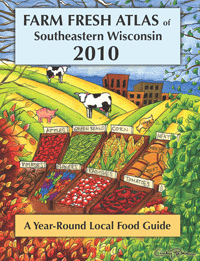 If you are a farmer or local business that wants to attract more customers in the Milwaukee Metropolitan area, then the 2010 Farm Fresh Atlas of Southeastern Wisconsin may be for you.
The atlas features local farmers, cooperatives, farmers markets and businesses that produce, use, or sell Wisconsin farm products and sell those products directly to consumers.
"We are developing this atlas to meet consumers' renewed interest in choosing where their food comes from" says Rose Skora with Kenosha/Racine Counties UW-Extension. "These consumers want the freshest, best tasting and healthiest food available. Additionally, they want to help preserve farms as part of the local landscape. This atlas will let people know where and how to buy directly from growers."
More info is available in a press release here. Deadline for applications is Dec. 1. You can apply  by contacting Rose Skora, agriculture educator for Kenosha/Racine Counties UW-Extension at 262-857-1945 or via email at rose.skora@ces.uwex.edu. An online application also available here.