Riverview School will be welcoming back a familiar face as the district's interim administrator.
Douglas Feld who has filled various roles at the school for 40 years, was tapped by the School Board Monday to fill the administrator role while a permanent replacement for outgoing administrator Todd LeRoy is sought.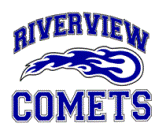 LeRoy resigned earlier this month and will leave the district as of Nov. 13.
Feld, who retired from the district five years ago, said he is not interested in filling the position permanently. But he was enthusiastic about assuming the temporary role for the district.
"I wore blue tonight for one reason," Feld said. "I bleed Comet blue."
Feld will be paid $45 per hour for between 10 to 30 hours a week as needed, board President James Walker said.
"Basically folks you need attention back in the classroom," Feld said. "I think I can help."
"Trust me, we're going to get the district moving forward." Feld said to the audience after his hiring was approved by unanimous vote.
Earlier in the meeting, Feld had resigned as the school's B- Team basketball coach.