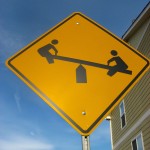 Rainy weather of late has cancelled many activities outside.
But it won't deter the building of playgrounds at Salem Community Park Friday and Saturday, which will proceed rain or shine, said town employee Crysti Neuman.
The town is installing the playground equipment — one for children ages 2 to 5 and another for ages 5 to 12 — with volunteers. Installers from the playground equipment company will supervise the building.
The town has had a good number of volunteers sign-up in advance, Neuman said, but those who just stop by will be put to work. Work will be going on from 8 a.m. to 5 p.m. both days.