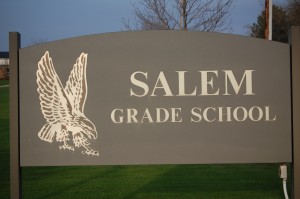 A snafu relating to ongoing construction work at Salem School meant students and staff got what amounted to an unscheduled fire drill Wednesday.
"A cover to a smoke alarm was purposely removed in an unoccupied mechanical room to prepare for the soldering of pipes in the bathroom area of the new addition," said district administrator David Milz. "The alarms are not supposed to activate when a smoke alarm cover is removed."
But they did, so the school did evacuate. There was no emergency however, Milz said.
"This unplanned drill couldn't have occurred at a better time on nicer day," Milz added. "The response time of the fire department was incredible!"
The school had cancelled a scheduled fire drill last week due to weather.