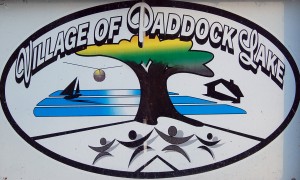 A business complex anchored by three established professional practices won approval for a new, video capable sign.
The Paddock Lake Professional Association represents the businesses of the Harris Pet Hospital, Gagliardi Law Offices and Jeffrey Sorensen DDS. The businesses will be replacing their current sign with one about 3 feet taller, but fitting inside the existing side supports.
The chief new feature — and one that drew some comment from a couple of trustees — is a display portion of the sign, which will carry marketing messages about the businesses in the complex. Attorney Frank Gagliardi, representing the association, said the sign will be capable of showing movie clips designed to market the businesses.
That heightened capability was the heart of Trustee Terry Burns' objection to issuing a conditional use permit for the sign.
"The problem I have with it is you have a sign that is capable of doing so many things," Burns said, adding that he was concerned about it becoming a distraction to drivers.
If there ever is a problem with the sign's content, such as something being too distracting, Gagliardi said he will address any concerns quickly.
"I control this sign," Gagliardi said. "We're looking to do something classy. If you ever have a concern, you can call me…"
Burns was the only vote on the Village Board against issuing the conditional use permit, which will be up for renewal in a  year and every three years after that.
"I like it," Trustee Kathy Christenson said of the new sign. "It's better than the ugly one that's there now."
The village Plan Commission approved the permit for the sign Monday. Building inspector Tim Popanda has also agreed to police the messages for appropriateness.