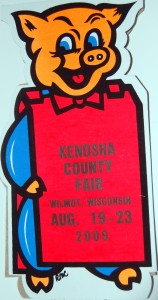 The Kenosha County Fair is full of fun for kids, but Friday that is more true than ever.
Friday is children's day at the fair, with activities geared toward the younger set.
For example, there's the children's parade. Participants can depict characters in 26 categories. (See page 78 in the fair book). There are animals, sports, TV and entertainment, hobbies, cartoons, groups and more.
The parade is open to children 14 and under and has prizes in each category. Registration begins at 9:30 a.m. and the parade begins at 10:30 a.m. Registration takes place in the area just outside of the fair office on the southeast corner of the fairgrounds. All participants also get a goodie bag at the conclusion of the parade.
Other children's day special activities include:
Peddle tractor pull, including the special 13-16 year old class, beginning at 11 a.m.
Special kiddie matinee on the midway with special prices on many rides, 10 a.m. to 6 p.m.
The county fair runs this Wednesday through Sunday at the fairgrounds in Wilmot.