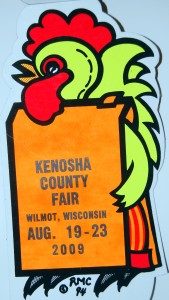 If you're a doer instead of a watcher, than you will want to seek out the Kenosha County Fair's participation activities:
Are you a scavenger? On Thursday morning there will be a scavenger hunt for children 12 years and under.
Do you play favorites? You can vote for your favorite in the Peoples Choice Awards in the Open Class Building.
Do you have a way with numbers? Participate in the guess the daily attendance contest. You can enter at the Open Class Building or the Junior Fair Exhibit Buildings, also known as the 4-H buildings.
Are you good with puzzles? Try your skills with the guess the jar contents contests in the Open Class Building.
The Kenosha County Fair runs this year from Aug. 19-23 at the fairgrounds in Wilmot.

View Open Class and 4-H buildings in a larger map
Earlier crows:
More than a fair amount of racing