Have you gotten into Twitter yet? West of the I has.
Here's how Twitter explains itself on its website: "A real-time short messaging service that works over multiple networks and devices. In countries all around the world,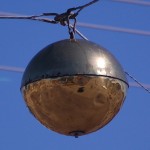 people follow the sources most relevant to them and access information via Twitter as it happens-from breaking world news to updates from friends."
That breaking news part is where we think Twitter will be useful for West of the I readers. By following our Twitter feed, you can know the latest at West of the I. In breaking news situations, we will give bulletins on Twitter with links to more details as they become available.
Thank you for continuing to visit West of the I.