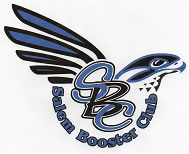 The Salem Booster Club running  sports and club activities at Salem School has a unique aspect in that opens participation by families and students who are home schooled.
So among its many other start-up tasks, the booster club is seeking to reach out to home school families.
Said booster club President John Philippi: "This is a departure from past years; we are really capturing all members of the community, not just folks associated with 'kids in the district at the school.'  This is a great thing because it bridges the gap between homeschooled and 'inschooled' by creating stronger relationships between the kids and parents of these two education platforms. It also results in more efficient and effective club participation, and increases the sharing of different perspectives. Further, parents of homeschoolers can now actively participate in sports and clubs through the volunteer network."
The booster club formed in the wake of a fourth failed tax levy referendum in April. With that failed referendum, the School Board was forced to make staff cuts as well as cut funding for all extracurricular activities.
So far, the club has found volunteers to maintain all sports programs. Many clubs have leaders too, but there are still some openings in the existing clubs or for new clubs.
Home school families — or any Salem School District family — interested in getting involved in the booster club or participating in its activities can contact Philippi for more information.