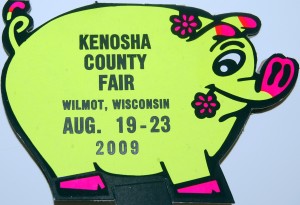 You don't have to be a sprint or stock car driver to go racing at the Kenosha County Fair, Aug. 19-23.
Robinson's Racing Pigs, pigs that race — and swim — just for the reward of an Oreo cookie, have become a fixture at the fair, which takes place at the fairgrounds in Wilmot.
Florida-based Robinson's has several units that travel the country with speeding swine. One will be stopping and performing daily at the Kenosha County Fair throughout each day of the fair.
Some of the little porkers run around an oval track. Others run and then plunge into a pool and swim to make the finish line. All are just trying to be the first to get the Oreo — their preferred cookie choice — that lies at the finish line.