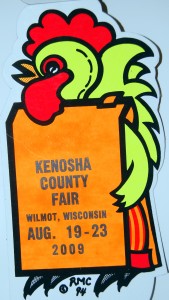 Think of the animals you might find at a county fair and you'd probably think of farm animals — cattle, horses, pigs, fowl — and maybe pets — like dogs.
Elephants and tigers probably wouldn't make your list.
But you'd be wrong when it comes to the Kenosha County Fair, Aug. 19-23, at the fairgrounds in Wilmot.
Elephant Adventure and Tiger Encounter will be giving daily shows at the fair this year, giving fairgoers a chance to see these
exotic animals close-up.
In addition to seeing the elephants perform, there also will be elephant rides available.
The tiger show features rare white and tabby tigers.
The tiger and elephants shows take place periodically through the day each day of the fair's run.
Earlier crows: