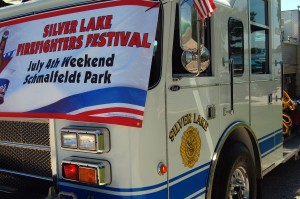 I received some additional information about the line-up of fun in Silver Lake this weekend. Here's some more of the new activities added to the Firefighters Festival through the efforts of the Silver Lake Chamber of Commerce:
1 p.m. — Gloria Davis – historian/author will be speaking.
1:30 p.m. — Spaghetti eating contest – Hosted by Taste of Italy restaurant.
2:30 p.m. — Elvis Presley- The King of Rock will be coming back.
3;30 p.m. — The band "The Affordtables" will be performing.