If you're looking to take in a ballgame this weekend, the Wisconsin Lightning softball organization has you covered and then some.
Wisconsin Lightning is hosting its annual NSA Qualifying "Battle of the Borders" girl's fast pitch scholarship tournament this weekend.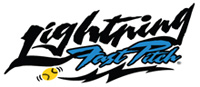 Participating will be over 47 teams competing in four age groups, — 10U, 12U, 14U and 16U — from Wisconsin and Illinois. Within each age group Wisconsin Lightning will be giving away a $250 scholarship for a total combined award of $1,000 in scholarships.
The tournament will be held at Central High School's Sorensen Fields, Salem Grade School and Wilmot High School.
Wisconsin Lightning Fast pitch has over 70 girls that make up seven teams that consist of one 10U, two 12U, two 14U and two 16U teams.
For further information please contact Art Fonk at 358-1278.