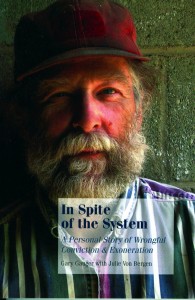 A Richmond, Ill., man's memoir of wrongful conviction for the murder of his parents has been named a finalist in two categories in the 2009 Indie Book Awards.
"In Spite of the System, a Personal Story of Wrongful Conviction & Exoneration" by Gary Gauger and Julie Von Bergen (Fourcatfarm Press, 2008), received the awards in the Autobiography/Memoir and Current Events/Political categories.
Gauger was arrested in 1993 for the brutal slayings of his parents, Morris and Ruth, on their Richmond farm. Despite his innocence, Gauger was convicted and sentenced to die. Through the efforts of his sister, friends, Northwestern University's Center on Wrongful Convictions, and a group of journalism students, Gauger was released in 1996. He was formally pardoned by former Illinois Gov. George Ryan in 2002.
A federal investigation of the Outlaws motorcycle gang revealed the identities of the real killers. They are now serving prison sentences for the crimes.
Author Scott Turow calls his story "… a riveting account of a nightmare straight from Kafka and the slow but inexorable journey to justice that followed."
Today, Gauger is an organic farmer and activist against the death penalty. Julie Von Bergen, his coauthor, is an editor from Lake Geneva.
In Spite of the System  is available online at www.garygauger.com.