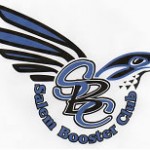 Wendy Schoenke, Secretary of the newly formed Salem Booster Club outlined the club's mission statement, goals and programs at Tuesday night's School Board meeting.
She also unveiled the club logo. The falcon with five tail feathers, and the letters SBC interlocked in the center has special meaning to Schoenke, who created the design with her husband, Mike.
"We used unity colors of blue and white and the letters SBC to represent the unity of the parents, teachers, students and the community," she said. "Of the five tail feathers, four represent the four failed referendums and are each in two colors to represent the two sides. The fifth solid colored feather represents all sides coming together to make the programs and activities continue."
Developing the Booster club came on the heels of the last failed referendum and seeks to ensure that sports such as volleyball, softball, track, and cheerleading continue, as well as popular activities including the annual school musical, student senate, forensics, and tech ed.
Planning for an initial 5K run/walk is in progress, according to Schoenke, and officers are working on a master budget to learn what it will cost to run each program.
"We plan to meet throughout the summer every Wednesday night at 6:30 at the Salem Library and occasionally at the Town Hall," she said.
Mission Statement
The Salem Booster Club is a non-profit organization dedicated to raising funds and acquiring resources that are not available through taxation, in order to supply educational and athletic enrichment programs at Salem Grade School.
Officers:
John Philippi, President
Cheryl Konwent, Vice President
Denise Gilbert, Treasurer
Wendy Schoenke, Secretary
Tammy Filiatreault, Communications Director
More information is available at www.salemboosterclub.com