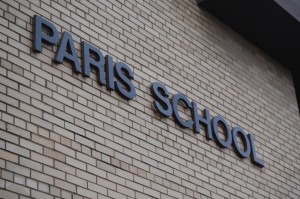 The Paris School Foundation, which could solicit and accept donations — including from the Paris town government — to support the school district, is up and running, it was announced at the School Board meeting Thursday.
Tom Werth, speaking during citizen's comments, said the group has been legally formed, its application for tax-exempt status is with the IRS and the board of directors will have its first meeting next week. Plans were for the group to open a bank account Friday, after which it could begin accepting donations.
"I think it's going to be a significant avenue of resources for the school," Werth said.
The foundation could raise money for virtually anything at the school except salaries and benefits, Wirth said. That's because of a legal requirement that such a foundation not benefit any one individual.
Creating a foundation was a key to exploring the possibility of the school district being able to receive funds from the town. The town, largely due to money it collects from the Waste Management operated Pheasant Run landfill, has over $20 million in reserves.
The town would not talk about the possibility of making a donation until a foundation was created, Werth said.
The school district is in such financial straits that it has voted to consider dissolution and could follow through on that course if a referendum to exceed the state-imposed revenue limit does not pass June 9. District officials blame a flawed state aid formula and a stagnant student census in recent years. If dissolved, the Paris district would be absorbed by neighboring districts.
Werth began his comments saying he wanted to mention something positive, but some commenters were more critical — at least when it came to recent board history.
Resident Gail Gentz said she did not want the school district to dissolve and praised the formation of the foundation as a positive for the district. But she also took board members to task for not informing the public earlier about budget problems and not articulating a plan for cutting costs in the future.
"To me as a taxpayer, I'm finding it hard to figure out how we got into this situation…" Gentz said. "Where are the budget overruns coming from?
"We elected you as school board members to be the watchdogs…" Gentz said.